Awesome 8 DIY Homemade Conditioners for Hair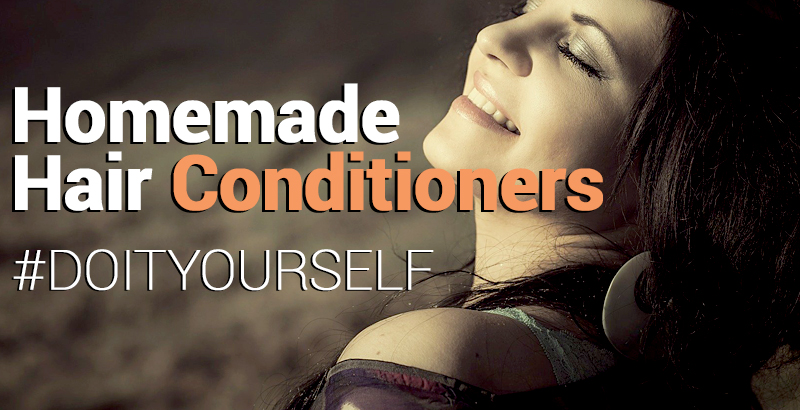 In this article, we will discuss about 8 DIY homemade conditioners for hair you can try for yourself.
For ages, we have been hearing that conditioners take supervision of the condition of the hair. Just like the name implies, does conditioner improves the condition of your hair?
Without knowing much about this hair intensifying cream we have been following the age-old ritual of loading our locks with that cream assuming to get a shinner, healthier, softer, tresses.
To get that sheen on the hair we have consolidated extra few minutes to apply conditioner during our hair wash time. Have you ever wondered how does it work on the hair?
I religiously gave extra minutes for my locks
I too followed a post-shampoo step of using a conditioner believing it to be the spine of the well-being of our hair. Later after hunting information related to this moisturizing agent I realized that hair health does not depends only on any external treatments but healthy hair depends on many other factors like proper diet, no tension genetics etc.
Confusion
Sometimes we get confused amidst conditioners and hair masks.
Are conditioners and hair masks the same?
Both nourish the hair but the major difference is
A hair mask is a blend of deep moisturizers like butter and oils whereas conditioners include hair-softening components.
Conditioners are for making hair manageable and up to the mark. Hair masks hydrate hair strands from within.
Know more
Let us understand what conditioner does to our hair? How can a conditioner tend to make such a big difference to the condition of your hair?
What is a conditioner?
Conditioner is a smooth and creamy paste designed to give a moisturizing lift to the hair. It is used after a thorough shampooing. It makes hair easily manageable. It creates a film along the hair shaft making it tangle-free.
Types of conditioners?
There are several varieties of conditioner. They are available in the form of liquids, gels, lotions, sprays plus creams
1-Rinse out conditioner-It is most commonly used and is available in the form of a cream. It is quite like a hair mask. They protect the hair from the damage caused by heat.
2- Deep Conditioner – This is basically for damaged hair. Essential oils are a part of the ingredient.
3- Leave-in conditioners– They are very light. Spread it all over the scalp and hair and leave it as it is. No-wash is needed. They detangle the hair.
4- Dry conditioners – Just spray and leave it.
How to apply?
There are two ways of applying it. The right way and the wrong way.
Right-way
Use the advised amount that is given on the bottle. Rinse out the shampoo thoroughly. Apply the product from the shaft to the edges. Don't apply it to the scalp. Leave it for a minute or two. Rinse it off completely.
Wrong-way
Using too much of it. Applying it on the scalp is a big No.
How often should conditioner be used?
After every wash or shampoo, a conditioner is needed.
Which conditioner is suitable for my hair category?
There is no particular type suited for a precise hair type. You have to pick in terms of its overall impact and individual choice.
What will be the adverse result of not applying a conditioner?
Your tresses will grow more crumbly, sensitive to knots, and inclined to damage.
DIY homemade conditioners that you can try
If you prefer using a chemical-free moisturizing agent for your crowning glory then try these DIY homemade conditioners. They can determine to be efficient in nourishing your lustrous hair:
1- Flaxseed Conditioner
Benefits – Flaxseed nourishes hair and scalp. Builds healthy hair. Fights scalp inflammation. Tenders hair smooth and flowing. Decreases hair loss.
Ingredients
1 cup water
1/4 cup Flaxseed
4 to 6 drops of Rosemary essential oil
1 tsp oil of your choice
Method
Mix Water and flaxseed. Bring to a boil. Switch off the flame and strain immediately (you can refrigerate this blend for later use). Take the required amount of this liquid (as per the length and thickness of the hair). Add 4 to 6 drops of Rosemary oil to it. and 1 tsp of any oil of your choice. Apply all over your scalp, hair(from roots to the tip). Leave it for 5 to 10 minutes. Rinse off.
2- Egg Conditioner
Benefits
Eggs have tremendous protein. It makes hair strong and boosts its growth. Nourishes the locks. Overall improves hair health by reducing hair loss, adding shine, and makes hair follicle strong.
Ingredients
1 Egg
1tbsp Baby Oil
Method
Mix the two. Gently work the mixture through the hair. Leave for 10 to 15 minutes. Use a mild shampoo to get rid of the eggy smell.
Keypoint
Use it before shampooing.
3- Almond oil, Milk, Banana Conditioner
Benefits
Almond oil is rich in biotin and has natural SPF 5.
Calcium in Milk improves hair growth.
Banana carries silica that thickens the tresses.
Ingredients
1 tbsp Almond oil
2 tbsp milk
1 Banana
Method
Mash the banana and mix in the almond oil and milk. Make a creamy paste. Apply the mixture to your hair and let it stay for about 15 minutes. Rinse off with a mild shampoo.
Keypoint
Use it before shampooing.
4- Yogurt and Lemon Conditioner
Benefits
Yogurt has protein that nurtures the crowning glory, and lactic acid helps in disinfecting the scalp. Vitamin C in Lemon Repairs Scalp Health. Egg yolk has medicinal properties.
Ingredients
2 tbsp plain yogurt
1 egg yolk
Little Lemon rind
Method
Mix all three ingredients. Apply on hair and rinse off after 15 minutes.
Keypoint
Use it before shampooing.
5- Rice Conditioner
Benefits
The starchy water of rice amplifies the shine. Makes locks tangle-free and makes hair super soft and glossy.
Ingredients
1 bowl Cooked rice
1 tbsp almond oil
Method
With the help of little water make a fine paste of the cooked rice. Add almond oil to it. Spread it all over to your wet hair (do not apply it on dry hair). Keep it for 1/2 an hour to 1 hour. Wash it off.
Keypoint
Do not let the mixture dry off completely, otherwise, it will be challenging to clean the strands.
6- Coconut hair conditioner
Benefits
Coconut has Lauric acid, vitamins, and proteins. Together they do wonders for the locks.
Ingredients
200 ml Coconut milk
3 tbsp Aloevera gel
4 Vit E Capsules
Method.
In a bowl pour coconut milk and add aloe vera gel to it. Whip continuously. Add Vit E capsules. Apply on wet hair focussing more on ends and lengths. Let it sit for 15 to 20 minutes. Rinse it off.
Keypoints
1- Can store this blend in a glass container for 2 weeks. Keep it in the refrigerator and away from moisture and heat.
2- Apply it on the scalp for dandruff treatment.
3- Good for itchy scalp.
7- Apple Cider Vinegar Conditioner
Benefits
Apple cider vinegar is anti-inflammatory and has vitamins and minerals beneficial for the hair.
Ingredients
2 tsp Almond oil
1 tsp Apple Cider Vinegar
1 tsp Glycerin
2 tsp Honey
Method
Mix all the above-mentioned ingredients and apply all over the hair starting from the roots to the tip. Keep it for 15 to 20 minutes. Wash it off.
Keypoints
1- Cannot store it.
2- Use it twice a week.
3- Good for scalp infection, dandruff, and oily hair.
8- Mint Conditioner (last rinse)
Benefits
Mint is known to maintain the ph value of the scalp and brighten up dull and damaged hair.
Ingredients
3 glasses of Water
20 to 25 mint leaves
Method
Boil the above components until the color of the water changes to minty green. And you are done. Yes, it is so easy. Just strain, cool, and store. Use it as a last rinse.
Keypoints.
1- Can store in the refrigerator for 1 week.
2- Using twice a week is recommended.
3- Good for split ends, dandruff, and hair fall.
Try these DIY Homemade Conditioners. (I have given the associate links to the products). You can revive the vanished glory of your hair. You can completely rely on the above recipes. They are chemical-free, natural, and have no bad effect on those priceless tresses.
There are more techniques to beautify your crowning glory. One of them is in the form of last rinses (similar to the mint conditioner). I will write more about them and other hair-related cosmetics like packs, masks, etc. I will also focus on different knowledge-enhancing topics related to inner and outer beauty in my upcoming articles.
Please share your experience in the comments section below and feel free to drop in your suggestions. complaint, query, advice. Every post will be considered valuable.
Also you can share your experience with the DIY Homemade Conditioners if you have managed to do it, Your feedback will not only help me but it will help others too.
---
Disclaimer
The traditional instructions are not a replacement for doctors' opinions. Always consult a professional for a medical verdict if required. If any side effect erupts then discontinue applying the product.
---
Keep posting your inputs, experience, and opinion in the comments section.