Rice Water – 3 super easy DIY techniques of preparing it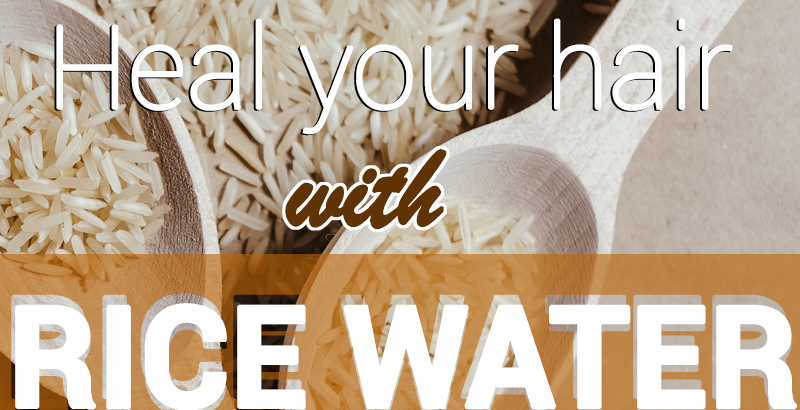 Rice water is used to strengthen and embellish hair. Its benefits are infinite. The greatest element about rice water is that it's so effortless to prepare, it has numerous advantages, and more so it requires just two ingredients, rice, and water. The remarkably simple ways of preparing it are mentioned underneath.
How to make rice water?
There are three methods of preparing rice water and they are as follows.
1- Wash
2- Ferment
3- Boil
1- Wash — Take good quality organic rice. Rinse the dirt thoroughly. Place it in a bowl and cover it with water just to cover it. Soak it for 30 to 40 minutes. stir once or twice in between. Confirm that the water has turned cloudy. Strain, you can use this water as it is.
2- Ferment — Keep this mixture (preparation method is explained in the preceding point) in a closed jar and keep it in a dark and warm place for a day or 2, until the water has turned a little sour. The warmer and darker the place the sooner will the process of fermentation will happen. Fermenting the rice water may provide even more nutritional benefits to your hair.
3- Boil — You can boil the fermented water keep on stirring it constantly. The boiling method will stop the fermentation process. If you want you can dilute the prepared liquid with plain water.
Alternative method
There is another shortcut method which is called the shortcut boiling method.
Just mix rice and water as if you preparing it Cook it until it starts to boil. You can use the water after one boil or can wait for the rice to be cooked. Strain the water. You can dilute this water with plain water and use it.
How to use it?
Rice water is applied to clean hair. After Shampooing your hair, spray a coat of this on the hair scalp. Ensure that every hair strand is coated with this water. Combing will spread the water all over the scalp evenly. Cover with a shower cap and let it sit for 20 to 30 minutes. Then rinse it off.
How to rinse rice water?
After applying rice water let it sit for two to five minutes, and then rinse with plain water. You'll probably notice immediately how strong and thick your hair feels.
The results
The hair will be tangle-free. Each strand of your hair will become extra strong. The water solution will provide a thin layer coating on the hair and will guard it against outside impurities. The rice water stays inside your hair and continues to work even after you have rinsed it out.
Authentic Yao Women Rice Water
Let us proceed to the unique recipe followed by Yao women to get that long, strong, healthy, and beautiful hair.
We now know the three primary recipes for making rice water. Out of all the three ways, the most advantageous is the fermented category.
The Yao woman uses fermented water. Does the Yao woman Follow the same recipe? Their formula is a bit diverse.
Given beneath is a detailed procedure regarding the preparation of rice water precisely like Yao women in China from Huang village.
Yao women Fermented Rice Water Recipe
Ingredients
Rice – almost one cup of organic white rice.
Water – as required
Any Citrus fruit or Pomelo – One
Fleeceflower root – one tsp
Ginger root – one tsp
Wash rice two to three times to remove all the impurities and dirt. Ensure all the impurities are gone. Drain out the water.
Take four to five cups of water. Soak washed rice in this water for about 30 minutes. The properties of rice should get imbibed in the water.
After 30 minutes, scrub the rice well using your palm and fingertips. Make sure that you are getting all the nutrients and vitamins assimilated into the rice.
The water should take a thick and white form. Strain this water into a pot.
Yao women use pomelo peels to erase the smell. Pomelo peels are very hard to find as it is not readily available.
A good substitute is the peel of any citrus fruit like oranges, lemon, or grapefruit. Citrus fruits are loaded with Vitamin C and acts as a conditioner for hair.
Put the peel of one citrus fruit (orange) into the rice water pot.
Grind ginger root and fleece flower root. Both the ingredients are optional. You can try getting fleece flower root from a Chinese herbal shop or online. Add the root paste into the pan.
Let it boil on a slow flame. After one boil, turn off the heat. Cool down and strain this water in a glass jar.
Keep aside this water with the peels to ferment for about two to three days for those staying in a hot place. Otherwise, ferment maximum for five to six days.
The orange peels induce fragrance to this water and eliminate bad smells.
Yao woman inversion method
Yao woman uses inversion method. This method focuses on proper blood flow to the scalp for immense hair growth.
Yao woman massaged warm natural oil into the scalp. Following that, they laid their head upside down for four minutes. They practiced this method every day for one week a month.
After effect
The after-effects of the Yao women's recipe are pretty wow.
Shampooing is not required, after the application of this fermented water.
Why is fermented rice water unique?
Fermented rice water is an age-old secret that got lost with time. The nutrients of rice get washed away while cooking. The benefits are as follows.
It has a low pH value and high nutrients.
Excellent conditioner.
The water is toxin-free and contains Vitamin B, C, and E.
Minerals and amino acids are high.
Repairs damaged cells.
This water reduces hair fall.
Antioxidant.
Fermented rice water contains 75 to 80 % starch.
Sum up
Give the most cost-effective DIY beauty product a must-try. The goodness of this starchy water will only magnify your tresses. Your crowning glory will appreciate you for bathing it with the magnificent multiple benefit water.
---
Disclaimer
The traditional instructions are not a replacement for doctors' opinions. Always consult a professional for a medical verdict if required. If any side effect erupts then discontinue applying the product.
---
Keep posting your inputs, experience, and opinion in the comments section.