Decoding Types of Nail Polish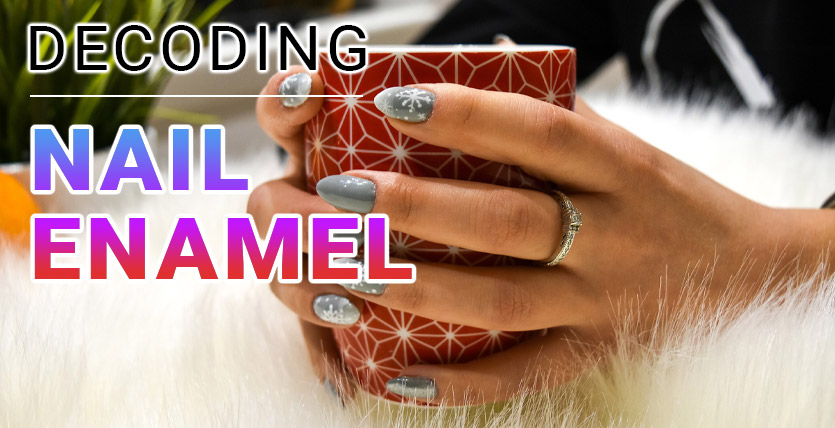 You can call nail polish a fashion statement or a sign of style and beauty. Every lady loves to polish their nails. A confusion of selecting a specific color always occurs in their mind, specifically before going for a manicure.
One can easily switch their nails from boring to adored spikes only by wearing this beauty product.
Now the question occurs that selecting a specific color according to the need of significant occasion or moment can be resolved, but what about choosing the precise category of the varnish which can not hamper nail health.
There is an overabundance of companies offering various types of nail tints. Terms like cool-toned, chunky glitter double up the confusion of a buyer. The surplus of polishes offers variant finishes and formulas.
A proper guideline related to the vast range of nail polishes available in the market will help them to make a crystal clear decision.
Different types of nail paints
As we all understand there are humongous kinds of nail shines available in the stores. Here is a complete guide on the various categories of nail polishes. The details will help you and will release the confusion that arises while buying your favorite beauty product.
Categories
There are about ten varieties of nail enamels available in the market. Its classification confuses the buyer and obstructs them from making the right choice. So let us proceed to know each one of them in detail.
1-Five free nail paint
In simple language, they are non-toxic nail dazzlers. We are gathering toxins from pollution, pesticides (in food items). An add-on to these is a big NO.
To make our cosmetics free from these poisons, toxin-free nail dazzlers are introduced. These paints do not contain camphor, DBP, toluene, formaldehyde resin, or formaldehyde. These are the names of chemicals used in nail paint.
DBP – means dibutyl phthalate. DBP stops polish from becoming flaky.
Toluene – maintains the softness of the paint and keeps it satiny, when applied.
Formaldehyde resin – It is used as a preservative.
Camphor – Adds elasticity and gloss. It is a plasticizer.
Formaldehyde – They turn the nails hard.
2-Quick-dry nail polish
As per the name this variety parches extremely fast. In today's time, everyone is running short of time. These paints are considered to be a boon. They dry up in no time. It is as if you apply and move on. The story of wait and watch does not exist. No worries are loaded after its application.
They are scrap-resistant. Provides salon-quality finish and above all is cruelty-free.
3-Longwear and chip-resistant nail polish
They are long-lasting and deliver a creamy finish. The colors are prepared in a way that stick's to the nail bed and does not require any base coat.
Effortlessly wiping off is another characteristic of this sparkler. There is no soaking needed. They keep the nail bed healthy via protected them from UV rays.
4-Breathable nail polish
Oxygen and sunlight are required to flow through the nails for their great health. Coated nails deteriorate their health. We have heard our grandmothers stating to keep the nails free from colors and let them breathe. This is what this category of enamel does. They let the fingernails and toenails inhale and permit oxygen to go through them.
So wearing nail luster non-stop is not good, but with breathable nail polish, you can be in vogue and also maintain your health. Choice can be made from the halal and vegan variety. They are appropriate for everyone.
5-Matte nail polish
It is a nail decorator which gives a matte finish. It is a regular luster-free polish. Although, the finish looks great but does not stay for long. They tend to chip quickly. Other glossy varnishes are long-lasting. To give it a stay long finish skip applying the base coat. This enables the color to attach to the natural bed of the nails.
6-Chrome nail polish
Chrome nail polish is perfect for a night-out party. The eye-catching metallic finish adds a zing to your monotonous costume. This polish delivers a salon-treated Nail-art look. A mirror-like result is constructed on the nails.
Kick start a party with the dazzling shimmer of this polish. Get that chic and bold look with the shiny colors. The highly pigmented silver powder gives a futuristic glimpse.
Chrome nail polish comes in two forms glitter chrome and metallic chrome. The silver particles on glitter chrome provide an unfinished texture. Metallic colors have a smooth surface.
7-Gel nail polish
These paints are an absolute favorite for many. They are similar to regular polish. What makes them different is their drying technique. They are dried only through direct UV or LED light.
Acrylic monomers and oligomers are the ingredients present in gel polish. These two elements bond together when they obtain UV rays. Curing is the name of this drying process. The UV or LED light solidifies this paint, within a few seconds.
8-Glitter nail polish
Be it nail art going to a wedding, or planning to attend a party, go for this nail varnish. This color adds glitter to the nails and uplifts your mood. Perfect for a festive look and more importantly it stays for long. It comes in solid colors and most of them are transparent.
You can play and experiment with this category. After the application of the base coat, apply glitter nail polish. For opaque finish recoat the paint. It is completely up to you how many coats you wish to apply to get that chunky transparent or opaque look. Just a dash of this nail polish on the tips of the nails with a dab of top coat makes it look chic.
9-Acrylic nail polish
Acrylic nail polish gives an attractive and stunning peek to your hands. They are quite affordable. This type of polish is very tough to scrap or crack. A combination of liquid and powder conceives lovely acrylic nails. A base coat and a topcoat take care of the final texture.
10-Dip Powder Nail polish
Dip powder nail polish is nail polish in the form of powder. Dabbing the nails is all that is required to be done. They are acrylic color powders.
Dip powders stay for three to four weeks. The procedure of the application keeps them stay longer. The powder of the chosen color is sealed between the topcoat and the base coat. No UV light is required for fixing the dip powders.
Besides the above-mentioned types, there are some basic must-have polishes. They are must-buys and are used before and after any type of nail color. Let's know a bit about them.
Base Coat nail polish
As the name says it all, it is the base color and is used before beginning nail painting.
They are nail nourishers and supply vitamins and minerals. The basecoat provides moisture to the nail bed. It helps polish to stick firmly on the nails.
Basecoat creates a smooth surface and helps in making the polish long-lasting. They are loaded with nutrition and protect the polish from skinning and chipping.
Top Coat nail polish
They are utilized on the nails after coloring the nails. The job of the topcoat is to protect the varnish from creaks and chipping.
Basecoat is the perfect shield for the nails and the topcoat is the best defense against enamel getting chapped and stained. It enables the paint to dry up quickly. Two coats provide an optimal effect.
Top Coat Spray
When there is a shortage of time then topcoat spray does the task quickly. It dries up the enamel really fast and is an alternative to topcoat polish. Topcoat spray adds extra luster to the enamel.
DIY nail polish
Why not design the nail color of your preference at home. Here is how we can formulate them at home –
Formula number one
Mix equal quantities of glue and talcum powder
and mix them thoroughly.
Dilute the mixture with a splash of water.
Add paint to it.
Blend and apply.
Formula number two
(Combine an equivalent amount of glue and the second ingredient)
1- Glue plus food color (of your choice)
2- Glue plus coffee powder.
3- Glue plus charcoal powder.
4- Glue plus turmeric powder.
5- Glue plus glitter.
6- Glue plus liquid lipstick.
7- Glue plus eyeshadow.
Homemade Acetone
There are two recipes
Recipe number one
Add an equal portion of sanitizer and perfume.
Combine them properly. Your remover is ready.
Recipe number two
We need half a lemon juice. Mix one tbsp of
vinegar to this mixture. DIY acetone is prepared.
Conclusion
The good to know pieces of information associated with various enamel must have cleared all the doubts. I hope now it will be easy to pick a specific variety.
I would suggest you give a try to the DIY colors and acetones. After the application of customized colors, a topcoat of translucent varnish will make them long-lasting. An add-on sheen to them will give them a professional look.